TRP CHART OF THIS WEEK
( 10 MARCH- 17 MARCH)
FAVOURITE JODI OF THIS WEEK


SO AGAIN YOUR FAVORITE CHANNEL ,MALAKA TUBE IS BACK WITH TRP CHART OF THE LATEST WEEK. I KNOW YOU ALL ARE EXCITED EVERY WEEK TO KNOW THE TRP OF YOUR FAVORITE SERIALS,TO KNOW IF ITS TRP IS GOING UP OR DOWN . FOR ALL THE NEWS RELATED TO INDIAN SERIAL TUNE IN TO MALAKA TUBE. SO LETS START THE TRP CHART OF THIS WEEK. STARTING FROM NO.10 AND THEN COMING TO NO.1.
NO.10 -
PIYA A
BELA :
RATINGS: 1.4
PIYA ALBELA
IS TELECASTED ON ZEE TV MON- FRI
ONLY ON ZEE TV. THE RECENT TRACK OF THE SHOW
IS NOT BEEN SUCCESSFUL IN BRINGING BACK THE TRP
BUT HAS SAVED THE SHOW FROM GOING OFF AIR .THE
CHANGES MADE IN THE SHOW WERE A BIG CHANGE
FOR THE MAKERS AND BIGGEST RISK FOR THE SHOW
AT THE SAME TIME. HOPE IT COMES BACK WITH GOOD
TRP NEXT WEEK.
NO.9: NAAMKARAN/MEHAK
: NAAMKARAN-



RATINGS : 1.6
NAAMKARANN

IS TELECAST-ED ON STAR PLUS MON -FRI.
WHEN IT WAS STARTED ON STAR PLUS IT WAS
SUCCESSFUL IN GETTING GOOD RATINGS FROM
THE AUDIENCE. BUT IN RECENT DAYS THE TRP
OF SHOW IS CONTINUOUSLY GOING DOWN.
THE REASON IS UNKNOWN BUT THE MAKERS
ARE TRYING THEIR HARD TO BRING IT BACK.
- MEHAK
RATINGS: 1.6
MEHAK

IS TELECAST-ED ON ZEE TV. THE
MAIN CHARACTERS OF THE SHOW ARE
SHAURYA AND MEHAK WHO LOVE EACH
OTHER AND COOKING ALSO. THE SHOW'S
TRP IS NOT INCREASING NOR GOING DOWN
SO THE MAKERS ARE TRYING BEST TO BRING
IT UP THROUGH DIFFERENT TWISTS.
8.

TU AASHIQUI
RATINGS: 1.8
TU AASHIQUI

IS TELECASTED MON- FRI
ON COLORS. THE SHOW WAS GETTING
EXCELLENT TRP IN THE BEGINNING. BUT
NOW THE RESULTS ARE GOING DOWN . THE
SHOW IS CONTINUING TO BE IN THE TRP LIST
BUT IT IS NOT SUFFICIENT FORTHIS KIND
OF SHOW.
7. ISHQBAAZ
RATINGS : 2.0
ISHQBAAZ IS TELECASTED ON STAR PLUS
MON- FRI . IN RECENT TIMES THE TRP
WAS CONTINUOUSLY GOING DOWN AND THERE
WERE RUMORS THAT IS WILL GO OFF AIR.
BUT NOW DUE TO MANY CHANGES DONE BY
THE MAKERS THE TRP IS GOING UP

.
6: ISHQ MEIN MARJAWAH /SUPER DANCER
-ISHQ MEIN MARJAWAH-

TRP: 2.2
ISHQ MEIN MARJAWAH

IS TEL- ECASTED
ON COLORS MON- FRI . THE SHOW IS DOING
WELL THESE DAYS BUT THERE ARE UPS AND
DOWN IN THE SHOW BUT IS FINE BECAUSE
IT WILL SOON COVER ALL OF THEM.
SUPER DANCER
TRP: 2.2
THE SHOW IS TELECAST ON SONY TV
THIS IS REALITY SHOW WHICH IS GETTING
A GOOD TRP FROM THE BEGINNING OF
THE SHOW . THIS IS A PLATFORM SHOW CASING
THE TALENTS OF DANCERS FROM DIFFERENT
DIFFERENT REGIONS.
5. UDAAN/ RISING STAR
UDAAN-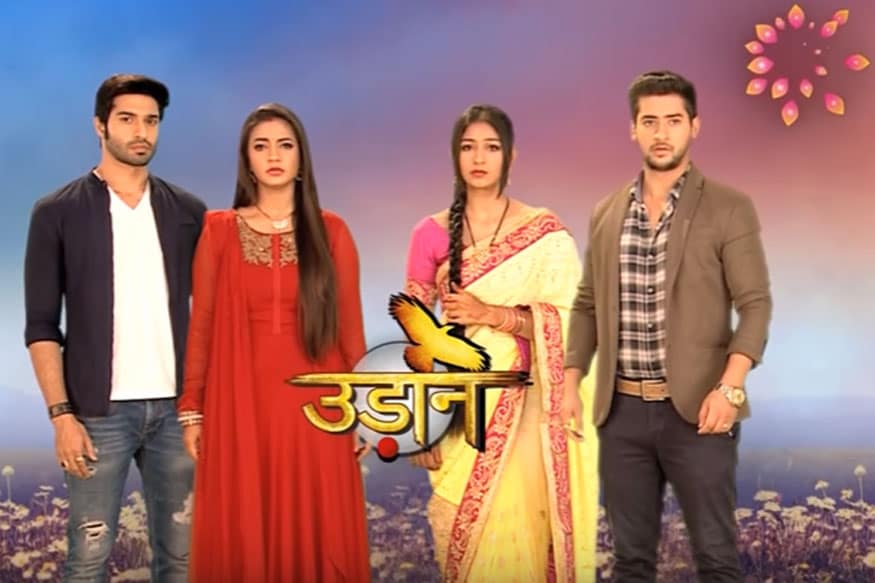 RATINGS: 2.4
THE SHOW IS TELECAST ON COLORS
MON-FRI AT 8:30 PM. THIS IS LIGHT HEAR-TED
SHOW TELLING THE STORY OF A STRONG GIRL
HOW SHE OVERCOMES ALL THE PROBLEMS
LIFE WITH GREAT COURAGE
- RISING STAR
TRP: 2.4
RISING STAR IS TELECAST ED
ON COLORS. THIS IS A REALITY SHOW.
IT HAS AVERY DIFFERENT CONCEPT OF
JUDGING THE CANDIDATES THROUGH PUBLIC
VOTING.THIS IS THE SEASON 2 OF THE SHOW.
4. KUMKUM BHAGYA
TRP- 2.6
KUMKUM BHAGYA IS TELECAST-ED ON ZEE TV
MON- FRI. THE SHOW DISPLAYS THE STORY OF
ABHI AND PRAGYA WHICH ARE TWO DIFFERENT
PERSONALITIES BUT FALL IN LOVE WITH EACH OTHER
SUDDENLY BUT THERE ARE MANY PROBLEMS IN THEIR
HAPPY MARRIED LIFE.
3: YEH HAI MOHABBATEIN
RATINGS: 2.7
YEH HAIN MOHABBATEIN IS TELECASTED
ON STAR PLUS MON-SAT. THIS SHOW IS
REPEATING ITS S STORY IN RECENT DAYS
AND IT HAS SUCCESSFULLY BRINGING ITS TRP
BACK . THIS SHOW IS A TYPICAL HINDI DRAMA
WITH MAJOR INTERESTING TWIST

.
2: TARAK MEHTA KA OOLTA CHASHMA
TRP- 2.8
TARAK MEHTA KA OOLTA CHASHMA IS
TELECAST-ED ON SAB TV . THIS IS A VERY
INTERESTING SHOW. THIS IS A HUMOROUS SHOW
WHICH MAKES EVERYONE LAUGH WITH ITS
AMAZING LOGIC.
1: KUNDLI BHAGYA
TRP- 3.2
KUNDLI BHAGYA IS TELECAST ED ON ZEE TV.
IT IS THE SPIN OFF OF KUMKUM BHAGYA .
IT IS GIVING GOOD RESULTS FROM THE BEGINNING
WHEN IT STARTED . THE AMAZING STORY OF LOVE
TRIANGLE BETWEEN RISHABH KARAN PREETA.